What people think...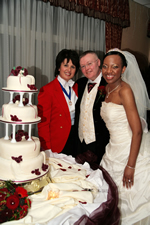 Mr and Mrs Brian & Winsome Richbell -Saturday 30th December 2006
'I would like to take this opportunity to formally thank you again for the excellent
and professional way you contributed to our wedding day being such a joy.
Friends and family expressed their pleasure at meeting you on arrival at Cranage
Hall and the friendly, warm and humorous way you undertook the very
demanding duties of Toastmaster and Master of Ceremonies.
Truly it was a pleasure to know you and for you to be very much a part of our
special day.
With much kind regards and appreciation'

---
Brian & Caroline Kennedy - Co, Tipperary, Ireland.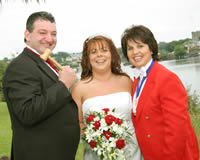 'Brian and I would like to thank you for a job well done. You are very professional in your line of work. With your help you made our day stress free, you were the highlight of our day and the Irish people were amazed at how well dressed and organised you were. You're a breath of fresh air and we can't thank you enough for a job well done.

Your some woman with a 'hammer' to call order and You even surprised Brian with all your organisational skills, you know it takes a lot to make him notice. Without you our day would not have been complete and we thank you from the bottom of our hearts.

Brian reckons that if you had not of been there, I probably would not have conceived on our wedding night, because I would have been too stressed out for anything more than a cuddle! '
---
Dr Maureen Williams, Chief Executive – MDF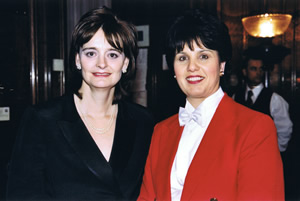 'I write to thank you for a role excellently performed on Friday evening last. Your contribution was invaluable and served to make the occasion seamless! I learned a lot about the value of a toastmaster!
We are very happy that the entire event was so successful and have decided to hold the Awards again next year, asking Cherie Booth QC to return as our Guest of Honour.

In addition, we would be so grateful if you would agree to be our Lady Toastmaster again!
Thank you again and I hope you enjoyed the evening too. It was good to work with you.'

---
Bling & full swing ball
- 17th february 2007
'What a fantastic evening we had! Shawn, you made our evening extra special and much less stressful! We have had so many comments about you (all good!) And how the evening just ran so smoothly. We couldn't have done it without you!! Thanks again x'


Love sarah's stars x x x
---
Victoria and Niall Galbraith - Wedding page

"Thank you so very much for your efficient service in the preparation stages of our wedding. Your advice and guidance was invaluable and your warm and personable character enabled us to feel completely relaxed with you. From the planning stage, your knowledge and professional organisation allowed us to put our complete trust in your expertise.

Everything on our big day ran so very smoothly due to our prior discussions and your scrupulous attention to detail. You also had a real understanding of those minor details that were so important to me and I'm sure to any other bride.

We felt able to put our faith in you, which meant that we could enjoy our special day without any anxieties or concerns. You offered formality to the day but did so in a warm and welcoming manner and ensured that our 200 guests needs were catered for.

We would like to thank you from the bottom of our hearts for your exceptional contribution to our big day and for assisting in making our day so memorable.

With Warm Wishes,'

---
Alison Dasilva, General manager - The Bupa North Cheshire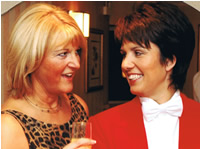 There are so many reasons for seeking the assistance of a toastmaster, among my top three are the following.
Firstly the event is not your worry on the night, and when you have to deliver an important speech in front of 200+ guests, the serving of the buffet is the last thing on your mind.
Secondly, a professional toastmaster will also act as in the planning stage offerring many suggestions for a succesful event and remembering the small things like cloakrooms.
Thirdly, they keep your event to time, very improtant if you are entertaining VIPs who have limited time for your event. In this situation the toastmaster will liase with all support services including security.
Shawn as a lady toastmaster brings something especially different to your event.As a woman she has a keen eye for detail and of course is multi skilled.
Shawn has a wonderful personality but maintains professional countenance at all times.
---
Trish Jones, P A To the Managing Director - Brother Industries (UK) Ltd
'I would like to thank you on behalf of Brother Industries (UK) Ltd for the brilliant job you did on Thursday 5th May 2005.
As you know, this type of event can only run smoothly when organisation is maintained from inception to completion. I am sure that this event would not have run so smoothly without your input and dedication to the role. In my opinion the fee paid for your services was well spent and your expertise allowed me to enjoy the event, knowing that you were watching and advising me of any issues that needed to be brought to my attention.
I will definitely be in touch if we have any formal events in the future. I will also pass your name on to others, and advise that they request your services if they have this type of event planned.
Once again, thank you.'